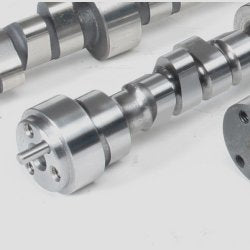 Super L98 Hyd. Roller Camshaft
This particular cam is a great little upgrade for a TPI 305 or 350.  You can see 30-35hp and 40-50 lbs/ft on a stock aluminum head TPI Corvette engine and with the addition of 1.6 rockers you can expect even more.  Also a good pick for marine use, as this cam really picks up the low to mid range torque numbers.   With its modest 220 degrees of duration and .450 lift numbers, it offers a smooth idle, and is hard to detect from stock, which makes it perfect for race series with camshaft restrictions.  This is a cam with a step nose for a retainer on an 87-94 SBC or LT1, and a cast iron distributor gear and is ground on a 112deg. lobe separation.  
Custom lobe separation angles are available upon request.  Please call to order.