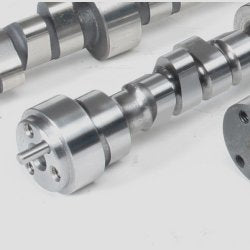 ZZ9 Hyd. Roller Camshaft - 1995-97 LT1
This cam is the heart of our 400hp 50 State Legal kit.  Easily see a 40hp gain on a stock LT1.  With duration at 212/226, it gives you a slightly choppy idle, making it sound like you have a serious powerplant under the hood.  This mid-range cam with .483"/.520" lift, has no loss of torque and works with you stock torque converter and is a good fit for a 305, but is an excellent choice for a 350 that is mildly built.  Use 1.6 rockers on the intake for more airflow potential.  This is a cam with a step nose for a retaining plate and a long pin on the 95-97 LT1, and a cast iron distributor gear and is ground on a 112deg. lobe separation.  
Custom lobe separation angles are available upon request.  Please call to order.