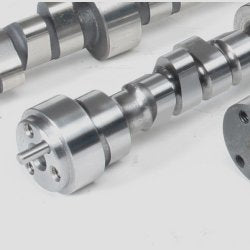 ZZ9x Hyd. Roller Camshaft ** Est. ship time 6-8 Weeks****
Designed specifically for forced induction and nitrous engines, this cam takes the intake lobe with 226 duration and .520" lift from our ZZ409 and the exhaust with 239 duration and .558" lift off our ZZx for an incredibly wide power band.  This is a perfect fit for a small block with a MiniRam intake and a supercharger or turbo.  With the exhaust lobe profiled specifically for scavenging, this cam is not recommended for naturally aspirated engines.  This is a cam with a step nose for retainer plate and long pin on the 95-97 LT1, and a cast iron distributor gear and is ground on a 112deg. lobe separation.  
Custom lobe separation angles are available upon request.  Please call to order.