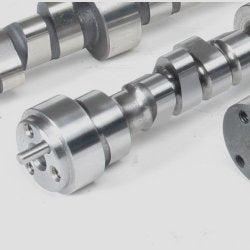 ZZ10 Hyd. Roller Camshaft
This 233/240 split duration cam is a good choice for a large displacement LT or small block fitted with a MiniRam intake.  Its .538"/.560" lift numbers really benefit bigger heads and with the addition of 1.6 rockers on the intake, you can bump the lift to .568" for even more air flow. This cam has a choppy idle, but still retains good vacuum.  For automatic cars it works best with a 2400-3000 rpm stall converter.  This is a cam with a step nose for retainer plate for the 87-94 SBC or LT1, and has a cast iron distributor gear and is ground on a 112deg. lobe separation.  
Custom lobe separation angles are available upon request.  Please call to order.