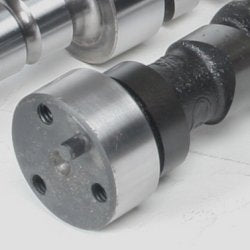 ZZ409 Retro-Fit SBC Hyd. Roller Camshaft FLAT NOSE ***2-3 Week Lead Time***
This is our most popular cam for the SBC/LT engines.  It is simply awesome!  The .520" lift, 226 duration single pattern design is an excellent choice for a wide variety of small block and LT engine combos.  A great choice with a MiniRam, or is a nice improvement for a TPI engine versus our ZZ9 cam.  Expect 450hp on a 350 cid and 470hp on a 383 cid.  It has a slightly choppy idle but with great vacuum and needs a 2000-2400 rpm stall converter for automatic cars.  This is a cam with a flat nose for the 55-86 SBC, has a cast iron distributor gear and is ground on a 112deg. lobe separation.  
Custom lobe separation angles are available upon request.  Please call to order.