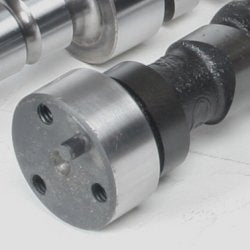 ZZx Hyd. Roller Camshaft (EST. SHIP TIME 8-10 WEEKS)
This is the largest hydraulic cam we offer for the SBC/LT engines.  This cam with its 239 degrees of duration and .558" lift, is streetable, but is intended for race engines.  Extremely potent on bigger MiniRam small blocks and LT engines, and very good on high strung 350s  Has a very choppy idle but still has moderate vacuum levels.  Automatics need a 3000+ stall converter.  525hp on a 383cid with our Dart heads. This is a cam with a flat nose for the 55-86 SBC, has a cast iron distributor gear and is ground on a 112deg. lobe separation.  
Custom lobe separation angles are available upon request.  Please call to order.